Benchmarked and bespoke 360 feedback tools
Reduce blind spots and build self-awareness with 360 feedback
Leadership happens in the interactions between people, and your interaction with each person or group will be different. 360 feedback helps you understand your impact on individuals, teams and the organisation as a whole.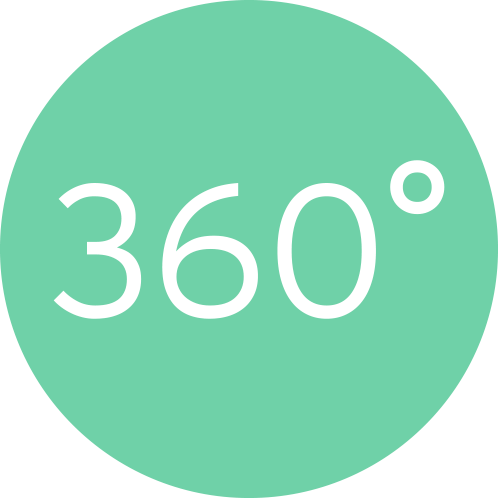 What is 360° feedback?
A 360
°
assessment collects feedback about your behaviours, performance and impact as a leader from those who work all around you – from those you manage directly or indirectly, people you work alongside, your manager and senior colleagues, as well as client, customers and other external stakeholders. Feedback is anonymised and compiled to provide a complete and honest picture.
Why 360° feedback?
Leaders have significant impact on those around them, so building self-awareness and reducing blind spots is key. A 360
°
helps you to understand the impact you have; what others appreciate and what they would like to see more/less of from you. Benchmarking yourself against other leaders helps you to put things into perspective.
How do we do it?
We offer standard, benchmarked 360

°

assessments for leaders, as well as tailored or completely bespoke 360

°

questionnaires, designed by business psychologists
Our platform is flexible, quick, reliable and easy to use
You can manage your organisation's 360

°

assessments internally, or we can save you time by managing it for you
Further explanation
Our 360° report provides a simple presentation of results, enabling quick and easy interpretation – but it's also a more detailed, data-rich analysis than most similar systems.
Our 360° assessments include:
The internationally benchmarked Primary Colours Leadership 360°
Engaging Manager 180° helping managers develop their people skills
The market leading Edgecumbe Doctor 360° for doctors' revalidation
Bespoke 360

°

s for our clients' own values and/or competency frameworks
In this blog we asked Director of Lines of Sight Consultancy and Workplace Policy Lead for [...]
If you currently manage, lead or work with a multi-cultural group of people with different beliefs, [...]
An introduction to leadership styles Winston Churchill, Steve Jobs, Genghis Khan, Jeff Bezos and the Pope. [...]
How else do we help individuals?
Talk to our team of experts
"The journey of a thousand miles begins with a single step" (Lao Tzu). Transform your organisation's leadership.